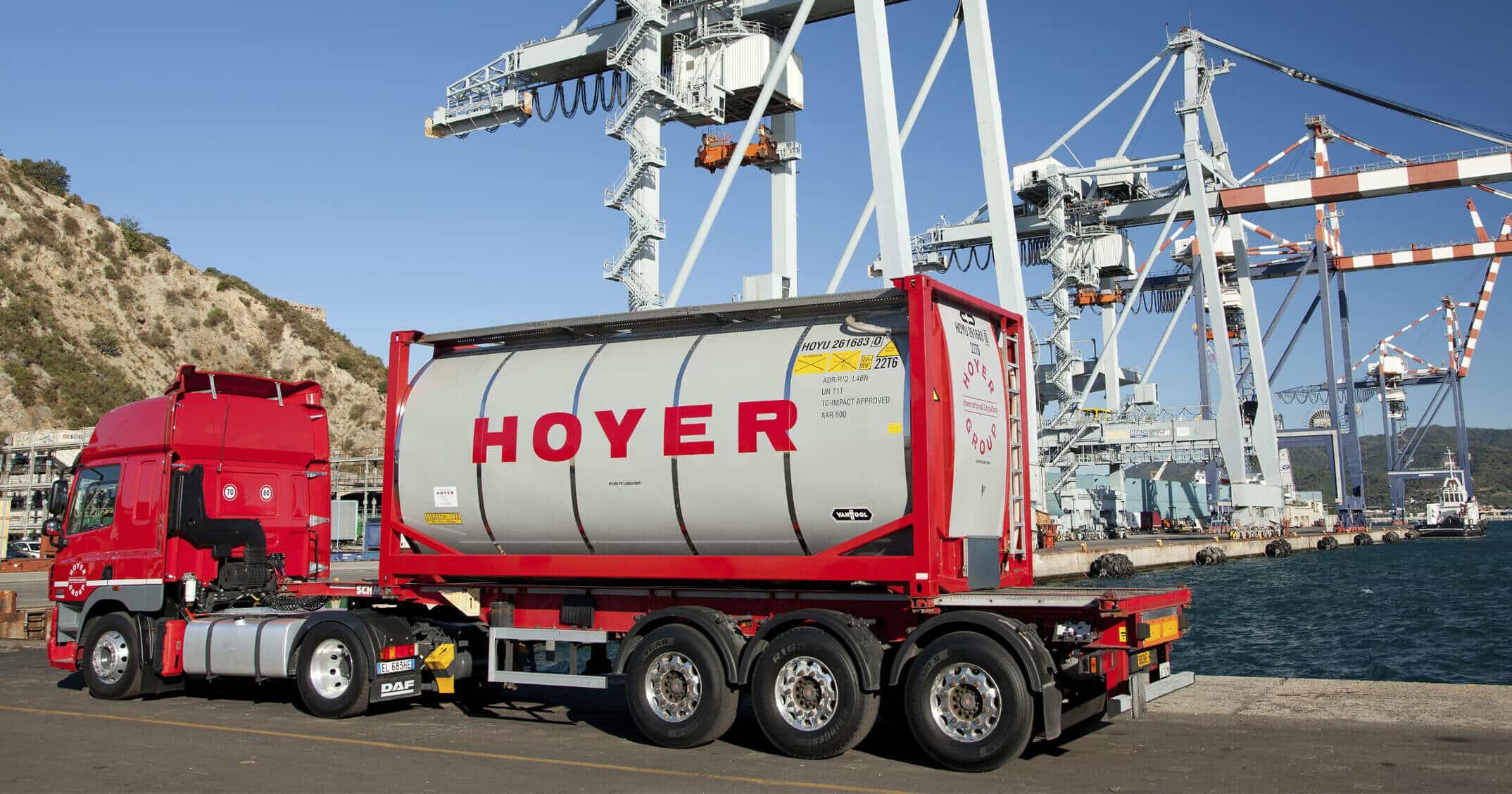 SAVVY® Telematic Systems AG als Spezialist für hochentwickelte Telematik Systemlösungen zählt zu den exklusiven Lieferanten des Hamburger Logistikunternehmens HOYER.
HOYER is a global market leader for transporting liquid loads by road, rail, and sea. To efficiently manage its tank containers for temperature-controlled shipments, HOYER relies on SAVVY® competence. After a successful pilot phase and in its capacity as an exclusive technology partner, SAVVY® is integrating its intelligent telematics system solution in a broad range of logistics processes at HOYER. To this end, the tank containers are equipped with the SAVVY® telematic units CargoTrac and/or FleetTrac and connected to SAVVY®'s cloud-based Synergy Portal.
Thanks to SAVVY® Synergy Portal's customised interface, both HOYER employees and end customers have permanent access to tank container data allowing them to collaborate and optimise their logistics process control. Among other things, continuous temperature monitoring as well as active temperature control during the entire transport cycle make uninterrupted automated quality proofs possible. By using the new technology, HOYER aims to further increase transport and logistics productivity as well as service quality for business customers and to maintain its competitive advantage.
High performance tracking & tracing makes it possible to monitor all shipments precisely in real-time. SAVVY® telematics units record a wide range of sensor values and tracking data such as circulation and idle times, unit operating hours and filling levels, temperatures, change in position and shocks. Any and all target value deviations are logged and saved reliably. If a unit reports disruptions or the temperature falls below the target value, the system sets off an alarm. Monitoring the container temperature protects thereby protects the shipment value and prevents expensive damage events in products with low hysteresis such as adhesives, which can be damaged in the event of temperature deviations of even only 1 degree Celsius.
FEEDBACK
"SAVVY is not only the technology leader in the telematics sector, it is an acknowledged expert in the area of monitoring electronic trace heating systems. In addition to its engineering know-how, the company has a unique understanding of future-oriented digital logistics business processes.
This is demonstrated for example by the high efficiency of the SAVVY Synergy Portal. This combination makes SAVVY an ideal partner for us. As part of the Indus Holding AG, SAVVY also offers the stability and reliability necessary for a successful long-term collaboration."
Hans Demarest
Director Engineering of Business Unit Netlog
SAVVY® Telematic Systems system solution is made to enable high connectivity and easy integration. The vendor-independent telematics units can be used with all of HOYER's current cooling and heating systems.
BACKGROUND
About HOYER Group
HOYER has been a traditional, independent family company since 1946 and is one of the world's leading bulk logistics companies. As a specialist, HOYER has extensive know-how in complex services and is particularly close to its customers. In European and worldwide bulk logistics, comprehensive solutions are developed and implemented in particular for the chemical, food, gas and mineral oil industries.
5,600 employees in over 115 countries help customers to be even more successful in their respective markets with well thought-out logistics solutions. HOYER has around 2,500 tractor units, 3,000 tank trailers, 25,000 IBCs, 36,000 tank containers and numerous logistics facilities with depots, cleaning plants and workshops.
About SAVVY® Telematic Systems AG
SAVVY® Telematic Systems AG, headquartered in Schaffhausen, Switzerland, is a leader in innovative telematics, sensor and software solutions that make an important contribution to digitisation in the chemical and logistics sectors. The objective is to increase added value in these companies by means of efficient work and logistics processes. SAVVY® combines high-tech telematics system solutions for use in rail freight wagons, (tank) containers, IBCs, vehicles or machines with sophisticated telematics technology and a process-oriented state-of-the-art portal.
The range of products and services also includes extensive process consulting and intelligent process design for all telematics and sensor-based as well as digitising business processes in chemical, industrial and logistics companies. As of May 2014, SAVVY® is a second-tier subsidiary of the SDAX-listed INDUS Holding Group (www.indus.de). The resulting financial stability is unique on the market and ensures SAVVY® customers' investments are protected and absolute data management neutrality maintained.
Press contact of SAVVY® Telematic Systems AG

Aida Kaeser

Co-Founder & CEO