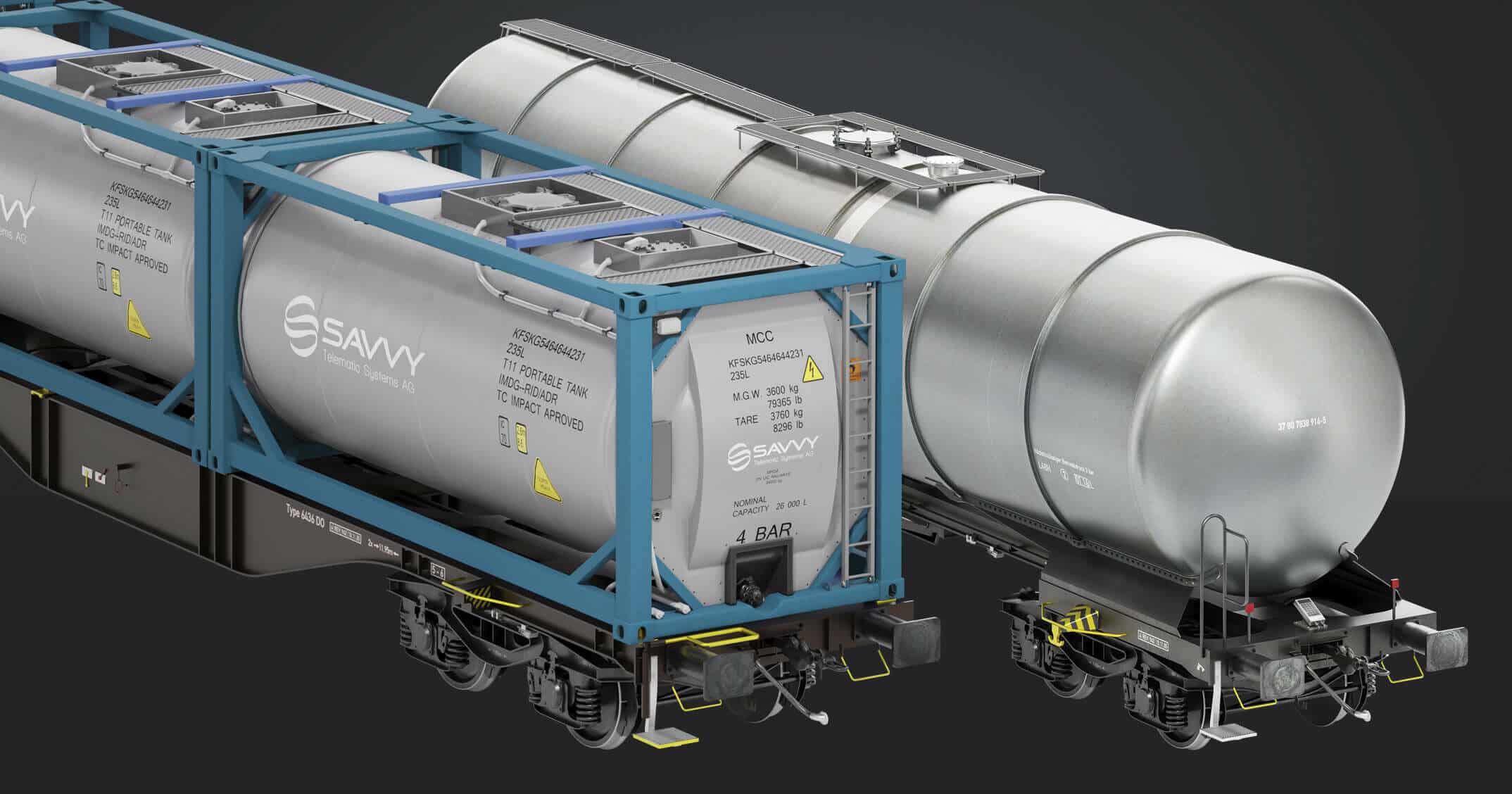 SAVVY® zeigt neue Innovationen zur Vernetzung und Optimierung von Logistikprozessen.
SAVVY® Telematic Systems AG, leading specialist for advanced telematics system solutions and second-tier subsidiary of the SDAX-listed INDUS Holding AG, presents several innovations for modern and digitalized logistics. The award-winning SAVVY® Synergy Portal combines management, collaboration and business intelligence functions for enterprise-wide control of complex logistics requirements. As a first in hardware, SAVVY will present three new ATEX-certified telematics devices: solar-powered, energy harvesting SAVVY® CargoTrac-SOL, the SAVVY® CargoTrac-ExR equipped with an IEEE802.15.4 radio transceiver, and the SAVVY® Sense Gateway-ExR, which offers four connection options for vendor-independent ATEX sensors. The SAVVY® Sense Gateway communicates wirelessly with the telematics devices.
SAVVY ATEX-certified telematics units offer performance and durability well above industry standards, opening up the full spectrum of digital process optimization to hazardous materials logistics. With SAVVY's technologically leading telematics units, absolute freedom from maintenance and autonomy is guaranteed over the entire service life up to 15 years – even under the harshest conditions. Based on SAVVY technologies, companies in transport logistics obtain optimal traceability for means of transport and transport units, automate administrative processes, can increase the productivity of their transport processes and develop new, value-added services for customers or associated business units.
SAVVY® Synergy Enterprise – transparency and networking for everybody
The cloud-based SAVVY® Synergy Enterprise portal not only makes logistics processes transparent, but also offers comprehensive collaboration options for quick exchange and easy coordination with all parties involved. This is complemented by powerful business intelligence tools that enable rapid analyses of business processes and reliable forecasts. On this basis, processes in transport logistics and related business areas can be digitally networked and optimized in a targeted manner.
SAVVY® CargoTrac-ExR – data-driven process optimization in dangerous goods logistics
The SAVVY CargoTrac-ExR is approved for Zone 1 hazardous areas (gas, dust) and is suitable for a wide variety of transport units: Containers, IBCs, freight cars of all types, and rail tank cars. An internal acceleration sensor reliably detects shocks, impacts, vibrations and accelerations in the range of ±8g. Furthermore, an integrated GNSS receiver ensures precise positioning up to an accuracy of 2m. All common satellite systems like GPS, GLONASS, BeiDou, Galileo, QZSS, SBAS are supported. All antennas are integrated in the device, so no external antenna connections are necessary. As a further innovation, CargoTrac-ExR offers the possibility to connect external sensors also via a 2.4GHz ZigBee radio interface. In addition, there is a sensor gateway, with encrypted data transmission:
The SAVVY® Sense Gateway-ExR, for Zone 0 and Zone 20 hazardous areas, offers four connection options for manufacturer-independent ATEX sensors for monitoring temperature, pressure, fill levels or interlocks. Two internal temperature sensors detect ambient and operating temperature, plus a reed switch can detect external changes via a magnet (e.g. door opening, gateway removal, lever position, etc.). With SAVVY's scalable telematics system solution based on CargoTrac-ExR, companies from the hazardous goods logistics sector can digitally network, monitor and agilely manage their business processes: for maximum productivity in transport, handling and storage, but also to further increase value creation in logistics through new, customer-centric services.
Data exchange, telematics manufacturer independent
SAVVY® also supports the ITSS standard interface between server-side telematics applications (independent of the vendor) and the end customer's IT environment. The SAVVY® devices communicate wirelessly and are "ITSS2-ready" for the future vendor-interoperable radio standard from TIS/ITSS. This guarantees a manufacturer-independent data exchange at any time. Separate software that consolidates different telematics manufacturers and unites them in a separate portal is thus a thing of the past – welcome independence, welcome digitalization 4.0!
BACKGROUND
About SAVVY® Telematic Systems AG
SAVVY® Telematic Systems AG, headquartered in Schaffhausen, Switzerland, is a leader in innovative telematics, sensor and software solutions that make an important contribution to digitisation in the chemical and logistics sectors. The objective is to increase added value in these companies by means of efficient work and logistics processes. SAVVY® combines high-tech telematics system solutions for use in rail freight wagons, (tank) containers, IBCs, vehicles or machines with sophisticated telematics technology and a process-oriented state-of-the-art portal.
The range of products and services also includes extensive process consulting and intelligent process design for all telematics and sensor-based as well as digitising business processes in chemical, industrial and logistics companies. As of May 2014, SAVVY® is a second-tier subsidiary of the SDAX-listed INDUS Holding Group (www.indus.de). The resulting financial stability is unique on the market and ensures SAVVY® customers' investments are protected and absolute data management neutrality maintained.
Press contact of SAVVY® Telematic Systems AG

Aida Kaeser

Co-Founder & CEO