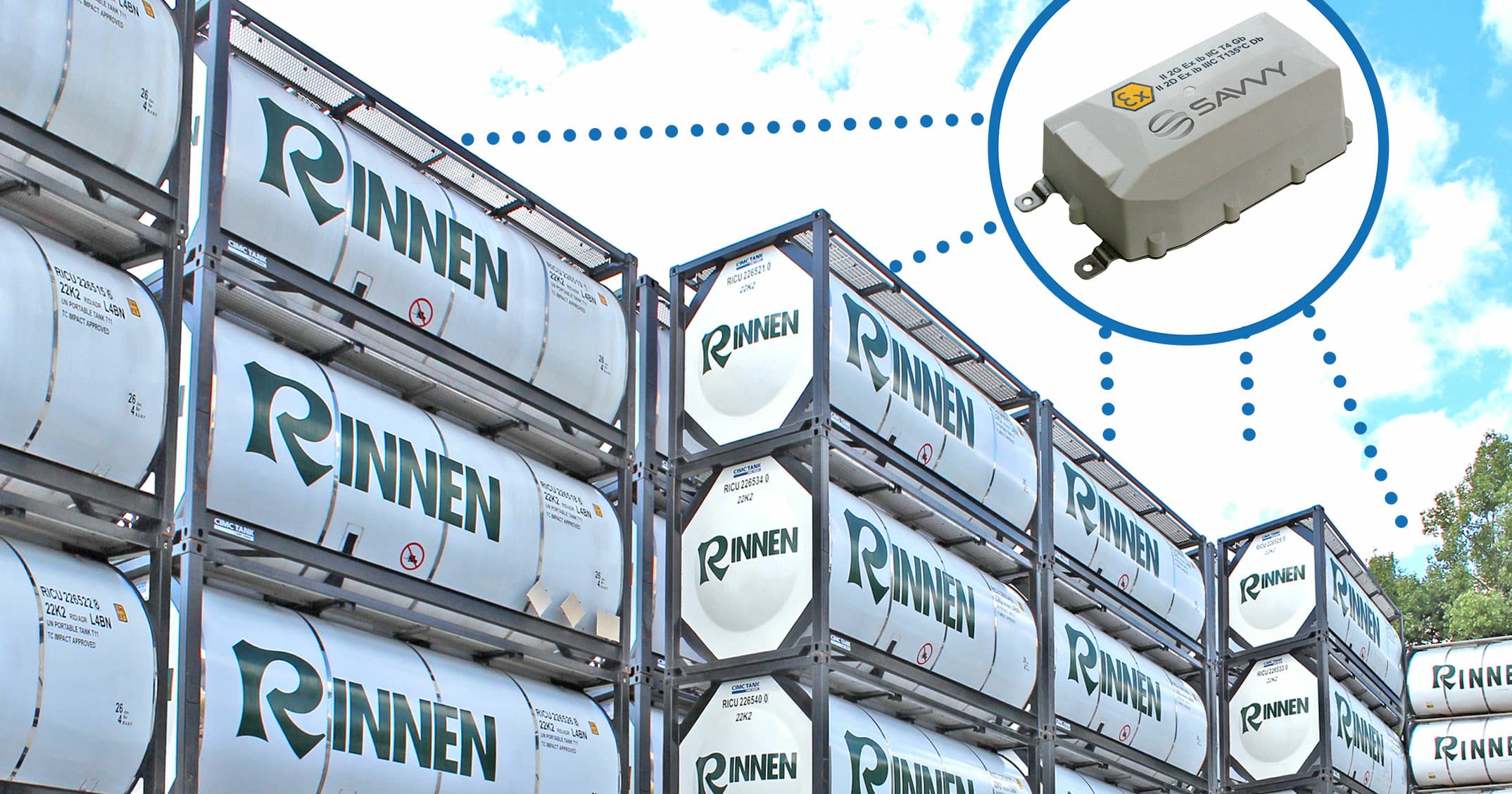 Der Transport flüssiger Materialien, die eine bestimmte Temperatur bewahren müssen, ist eine logistische Herausforderung. Um temperaturgeführte Transporte zu überwachen, nutzen Logistikunternehmen Verkehrstelematik.
Sensors continuously measure the temperature of the liquid goods. If there is a critical deviation, drivers receive an alarm notification by radio and can respond accordingly. Transport specialist RINNEN has now gained an even more precise overview of its liquid goods thanks to an innovative SAVVY® Telematic Systems solution.
Measuring temperatures directly inside the tank
Each liquid has a temperature range that it must not fall below or exceed, for example from 18 to 40 degrees Celsius. RINNEN wants to provide the highest possible degree of shipment safety to its customers even for products with a narrow temperature range. SAVVY Telematic Systems has provided a solution that does exactly that. "We have developed a device that measures the temperature inside the tank", explains Bernhard Weiland, Key Account Manager for the Swiss telematics provider. "A replaceable thermowell with a PT 1000 sensor is inserted into the tank from the top. The sensor is only separated from the liquid by the tube fitting, thereby providing exact measurements."
The sensor is connected to the SAVVY Sense Gateway-ExR, an ATEX-certified telematics unit installed on the top of the container. The Gateway device communicates via radio with the CargoTrac base unit. The unit sends data to the SAVVY Synergy Enterprise Portal. The web-based platform enables the RINNEN fleet management team to maintain an overview of all transport variables such as current location, temperature, pressure, and container fill level at all times.
FEEDBACK
"We developed a device that measures the temperature inside the boiler. A replaceable immersion sleeve with a PT1000 sensor is inserted into the tank container from above. The sensor is separated from the liquid only by the sleeve and thus provides an accurate reading."
Bernhard Weiland
Head of Sales, SAVVY® Telematic Systems
Realistic arrival time estimates
SAVVY also provides RINNEN with a seamless tracking&tracing solution. This makes it possible to determine the estimated time of arrival (ETA). Up to now, ETA was calculated and displayed using a telematics system in its own vehicles. The downside: It was not possible to maintain an overview in the case of combined shipments. "We were able to provide a realistic ETA for the initial and final legs by truck but not during the main leg via rail, inland waterway or sea", explains Oliver Brucks, Head of Vehicle Fleet Management at RINNEN. "SAVVY has enabled us to close this gap. Every 15 minutes, the Cargo-Trac units on the tank containers send out their GPS position to the Synergy Portal, which then calculates the current ETA. This way we can provide our customers with current data when they need to plan their delivery, regardless of whether the containers are located on our trucks or are being shipped with one of our freight partners." In the chemical industry, ETA is a key variable. Just-in-time systems are used for a lot of production processes, which is why seamless supply chain coordination is essential.
FEEDBACK
"We were able to provide a realistic ETA during the pre- and post-carriage by truck, but not during the main carriage by rail, barge or sea. With SAVVY® we have closed this gap: The CargoTrac units on the tank containers send their GPS position to the Synergy Portal every 15 minutes, which then calculates the current ETA. This way, we are always able to tell our customers when they need to schedule their delivery – regardless of whether the containers are currently on our trucks or with one of our freight partners."
Oliver Brucks
Head of Fleet Management at RINNEN
Exact measurement values for highest safety levels
In a mutual pilot project, RINNEN and SAVVY are working to also determine fill levels even more reliably. To determine if a tank container is full or empty, the logistics company currently relies on on-site data. The ERP system assigns the status "full" or "empty" to a container when it passes through or arrives at certain geographical positions, such as a trans-shipment point, a border crossing or a final destination. For example, the status changes to "empty" as soon as a tank container leaves the point of interest (POI) such as "Factory Customer XY". However, imprecise information concerning fill levels cannot be completely ruled out with this method because the rules cannot cover all possible POIs. An innovative solution would ensure a higher degree of precision: Instead of deriving the fill levels indirectly from the position data, sensors detect even the smallest deformations in the container reinforcement struts – a reliable indicator of the container's fill level.
In addition, other influencing factors are included that could otherwise distort the results if they are not considered. The two companies are developing an algorithm which generates a robust value under consideration of different factors in order to reliably calculate fill levels. With this method RINNEN wants to further increase transport safety. Thanks to the telematic data, the forwarding company has transport statuses constantly under control. If the data deviates from the target values, the software automatically sends alarm notifications to enable drivers and fleet managers to respond immediately. Drivers are connected per tablet with the Synergy Portal, while the managing clerks have access per web-browser on their desktop PC. The alarms can be configured so that designated persons receive email notifications and that others are notified when the first group of people cannot be reached.
Collaboration platform creates transparency
FEEDBACK
"Our customers need a comprehensive and precise overview of the status of their shipments at all times", says Oliver Brucks. "We can now meet these expectations even better. Both with regard to temperature as well as ETA we have been able to significantly improve precision and data accessibility thanks to SAVVY."
Oliver Brucks
Head of Fleet Management at RINNEN
In this context, the Synergy Portal serves as a collaboration platform. With the aid of this tool, RINNEN can allow customers who so desire to gain direct access to the telematic data. They receive a common user access to simply log on to the portal. At one glance, they can see the current position of the shipments and the estimated arrival time on a map. Data concerning temperature, fill stand etc. are also shown in real-time.
FEEDBACK
"The customers that already use the portal are delighted. They not only have the benefit of increased transport safety but also improved tracking&tracing. If customs clearance takes longer than usual and delivery is delayed, they know that immediately and can adjust their production plans accordingly. Thanks to the collaboration with SAVVY, a competent and innovative partner, we have added true value for supply-chain-management."
Oliver Brucks
Head of Fleet Management at RINNEN
BACKGROUND
About SAVVY® Telematic Systems AG
SAVVY® Telematic Systems AG, based in Schaffhausen, is a leader in innovative telematics, sensor and software solutions that make a significant contribution to the digitalization of the chemical and logistics industries.
The aim is to increase value creation in these companies through efficient work and logistics processes. SAVVY® combines high-tech telematics system solutions for use on rail freight cars, (tank) containers, IBCs, and in vehicles or machines with sophisticated telematics technology and a process-oriented state-of-the-art portal. The range of services also includes extensive process consulting and intelligent process design for all telematics and sensor-based business processes of chemical, industrial and logistics companies that need to be digitized.
About logistics company RINNEN
The family-owned company RINNEN was founded in Duisburg in 1943. Since the seventies, the focus has been on the transport of liquid bulk goods in tank containers. The freight forwarder employs around 750 people and has a network of branches throughout Europe. RINNEN is constantly striving to further optimize the services it provides to its customers, which include several global players from the chemical industry. For example, the company wanted a better solution for temperature monitoring.
Until now, it used probes installed on the outside of the potion containers for this purpose. However, due to transmission losses through the boiler wall, these measurements were not accurate. Especially for products whose temperature differs only slightly from the outside temperature, it was impossible to achieve an accurate measurement result with this method.
Press contact of SAVVY® Telematic Systems AG

Aida Kaeser

Co-Founder & CEO