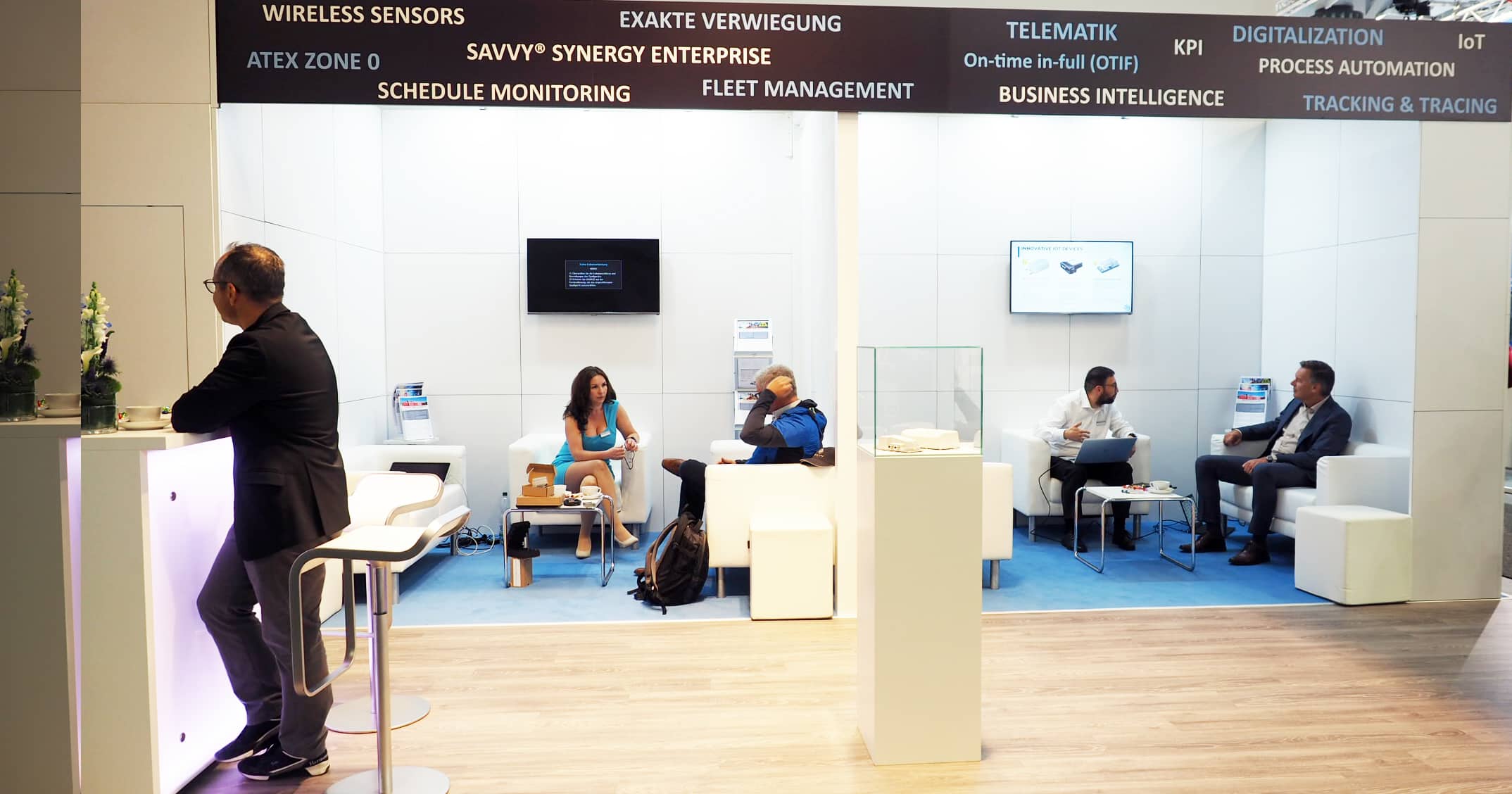 Schaffhausen (Switzerland), Apr 18, 2023 – SAVVY® Telematic Systems AG (www.savvy-telematics.com) is a leader in innovative telematics, sensor and software solutions that make a significant contribution to the digitalization of the chemical and logistics industries. At this year's Transport Logistik 2023 (May 09-12, Munich), SAVVY® will present several innovations for modern and digitalized logistics. At the booth in hall A3, booth 226, visitors can inform themselves about the customer-oriented further developments of the innovative SAVVY® portfolio.
Connected logistics next level – with SAVVY® as versatile as never before
In the hardware area, SAVVY® will present its latest generation of ATEX-certified telematics devices on the "Smart Bogie" use case in cooperation with Wabtec and Jumo:
The new, solar-powered SAVVY® CargoTrac-Solar with the highest ATEX/ IECEx/ UKEx certification, temperature class T6 as well as connectivity options for various wired and wireless industrial sensors. As usual, durable and maintenance-free for up to 15 years.
The SAVVY® SenseGateway-ExR-2DMS as a sensor HUB with 4 wired connection options mounted directly on the bogie. The possible sensor technology includes:
> Temperature sensors to determine the axle bearing temperature for increased safety in daily traffic;
> Brake abrasion sensors for optimization of maintenance processes and cost savings;
> Vibration measurements for improved flat spot detection;
> Possibility to connect up to 2 SAVVY® LoadCell-Ex to one SAVVY® SenseGateway-ExR-2DMS.
The SAVVY® LoadCell-Ex can be installed quickly and cost-effectively by simply clamping or screwing it to the bogie. Weighing, load shifting or full/empty detection thus become child's play.
Visitors can explore "Smart Bogie" mounted in this combination at SAVVY's long-time customer TRANSWAGGON at the Outdoor Area, Track 2/1.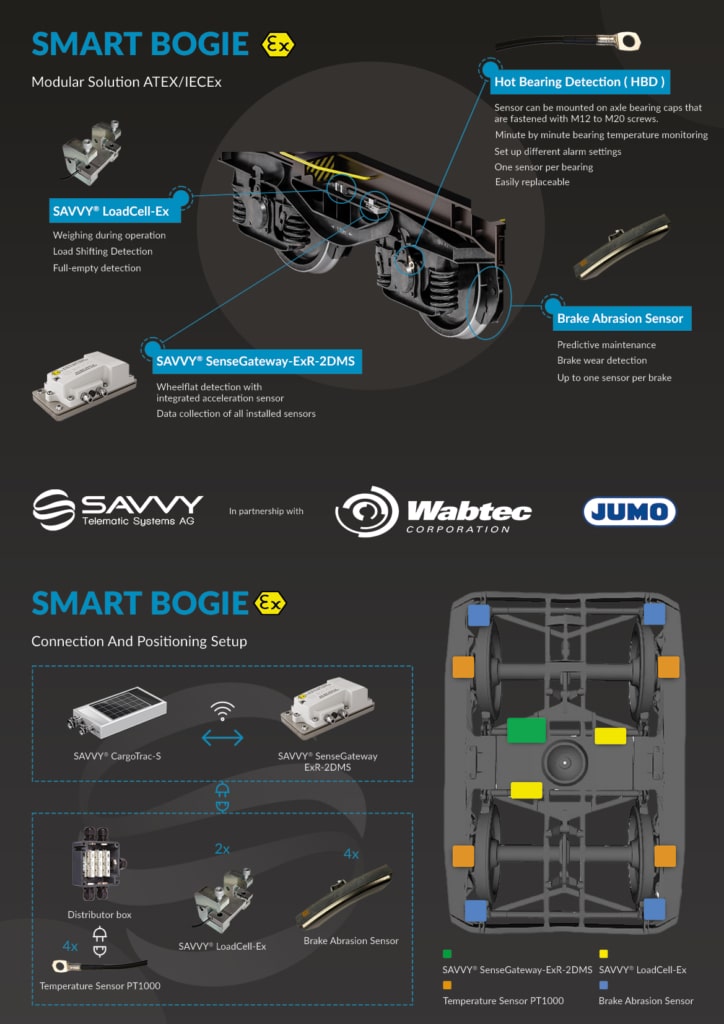 SAVVY® Synergy Enterprise – transparency and connectivity for everyone, from anywhere.
In the software area, visitors can also gain impressions of the further development of the award-winning, cloud-based SAVVY® Synergy Enterprise Portal. In addition to more than 30 industry-specific functions for the digitalization of the logistics workflow, data can be processed directly from SAVVY® Telematics as well as from third-party providers.
From geofencing, shipment monitoring and ETA determination to performance analyses and customized reports to a mobile app (available in iOS & Android), the SAVVY® Synergy Enterprise Portal offers future-oriented added value.
The malfunction management via app is particularly noteworthy: Malfunctions of any kind on the wagon (or other assets) can be recorded directly on site, documented and the workflow tasks forwarded to other persons for handling/notification.
Based on SAVVY® technologies, processes in transport logistics and related business areas can be digitally networked and optimized in a targeted manner. Companies obtain optimal and continuous traceability for means of transport and transport units, automate administrative processes, can increase the productivity of their transport processes and develop new, value-added services for customers or associated business units. This makes Digitization 4.0 fun!
Press contact of SAVVY® Telematic Systems AG

Aida Kaeser

Co-Founder & CEO