Logistikunternehmen stattet seine Flotte mit weiteren 7.000 GPS-Einheiten aus.
Schaffhausen and Zug, 09 February 2021 +++ The TRANSWAGGON Group, headquartered in Zug, Switzerland is continuing to press ahead with its fleet digitalization – and is equipping its entire fleet of 13,500 freight wagons with SAVVY® Telematic Systems devices. By taking this step, TRANSWAGGON is extending its cooperation with the telematics and sensory solutions provider: During the next three years, another 7,000 SAVVY® CargoTrac ExR MI telematics units will be installed, so that the entire fleet is equipped with the devices. Along the entire route, the devices provide data such as precise GPS/GNSS position data in real-time. Thanks to this, TRANSWAGGON and its customers gain full transparency concerning the position of the wagons – from loading to unloading. This makes it possible to plan and process goods transports more efficiently. TRANSWAGGON, the most flexible logistics partner for rail freight solutions, has been developing customized innovative, climate-neutral and reliable shipping solutions for its customers since 1965.
TRANSWAGGON leases out part of its fleet to a logistics provider that specializes in rail transport for the Scandinavian lumber industry. To be used in northern Europe, the telematics units have to withstand the harshest climatic conditions. The batteries in SAVVY® devices work reliably, even in temperatures up to – 40 degrees Celsius. The telematic units are not only very robust, they determine the position with an accuracy of up to two meters. At more than 1,000 points of interest (POI), such as loading and unloading stations or shunting yards, the software automatically calculates the distance to the next ten POIs.
This makes it possible for transport planners to maintain an overview of all their shipments and the exact position of each individual wagon. This seamless tracking & tracing enables TRANSWAGGON's customers to organize their processes more efficiently. In addition, they benefit from increased shipping safety. SAVVY® CargoTrac-ExR MI devices have shock detectors: built-in sensors detect vibrations for which threshold values can be defined in x-, y-, and z- directions. If a threshold value is exceeded, the engine driver and the planner can immediately receive a notification.
FEEDBACK
"After our very good experiences so far, we are looking forward to the second large project phase. The goal is to have all of our freight wagons digitalized with SAVVY® devices by 2023. This means that we can provide our customers with a state-of-the-art telematics solution that helps them to continuously improve their logistics processes. SAVVY® Telematic Systems has proven itself to be an excellent partner, one that works with us proactively and constructively to obtain best-possible solutions."
Daniel Schmid
Head business development and procurement at TRANSWAGGON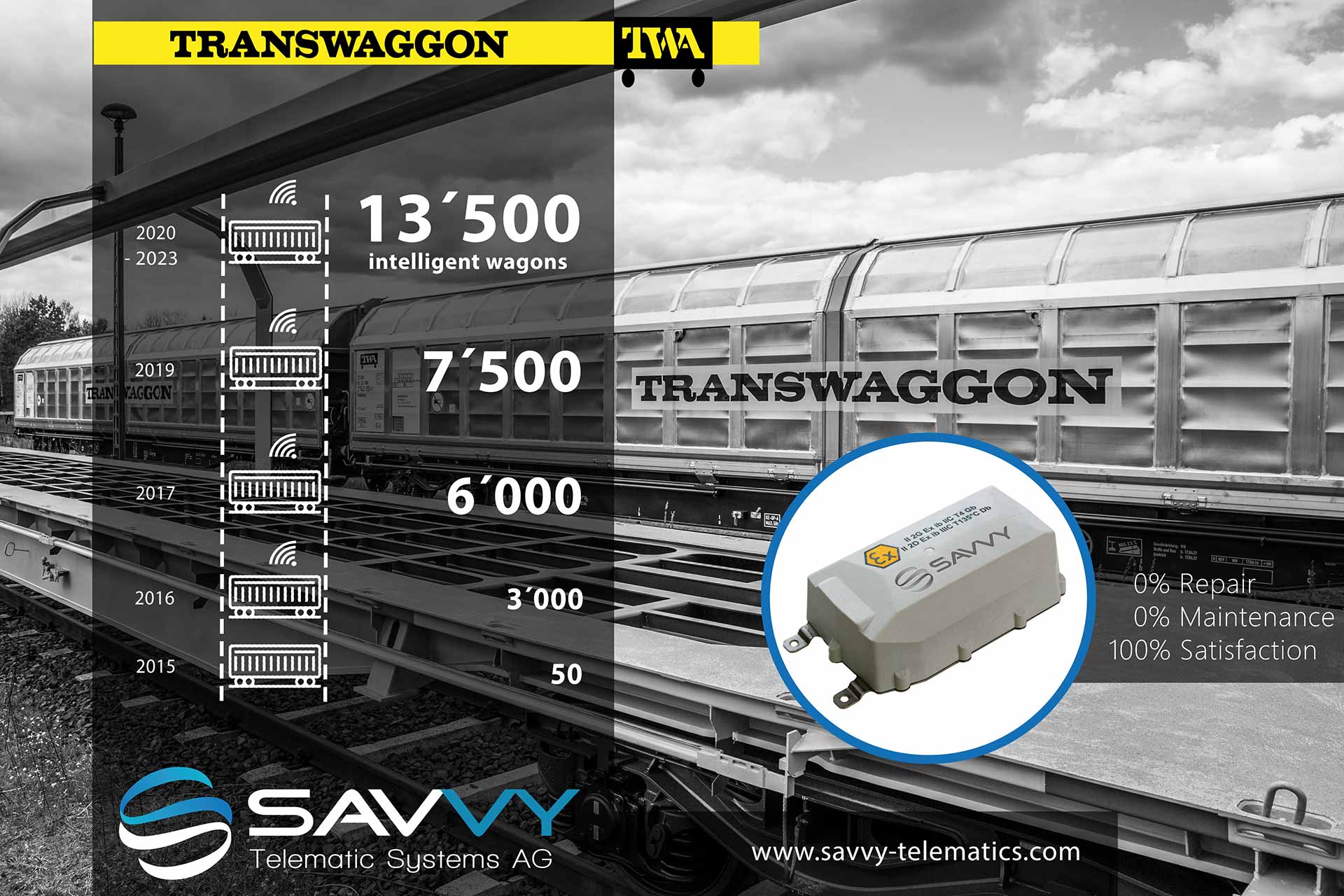 FEEDBACK
"We highly value the loyal and cooperative partnership with TRANSWAGGON. We are delighted that, after five years, TRANSWAGGON has once again chosen SAVVY. This strengthens our conviction to develop top quality telematics devices that work reliably and very accurately even in extremely cold conditions. Our innovative products generate important competitive advantages for companies in the chemical, transportation and logistics sectors."
Aida Kaeser
CEO von SAVVY® Telematic Systems
BACKGROUND
About SAVVY® Telematic Systems AG
SAVVY® Telematic Systems AG, headquartered in Schaffhausen, Switzerland, is a leader in innovative telematics, sensor and software solutions that make an important contribution to digitisation in the chemical and logistics sectors. The objective is to increase added value in these companies by means of efficient work and logistics processes. SAVVY® combines high-tech telematics system solutions for use in rail freight wagons, (tank) containers, IBCs, vehicles or machines with sophisticated telematics technology and a process-oriented state-of-the-art portal.
The range of products and services also includes extensive process consulting and intelligent process design for all telematics and sensor-based as well as digitising business processes in chemical, industrial and logistics companies. As of May 2014, SAVVY® is a second-tier subsidiary of the SDAX-listed INDUS Holding Group (www.indus.de). The resulting financial stability is unique on the market and ensures SAVVY® customers' investments are protected and absolute data management neutrality maintained.
About TRANSWAGGON
TRANSWAGGON (www.transwaggon.com), the most flexible logistics partner for rail freight solutions on the market, has been developing customized innovative, climate-neutral and reliable shipping solutions for its customers since 1965. The TRANSWAGGON Group is headquartered in Zug and offers a broad range of service for almost all types of businesses. It has years of experience in the shipment of paper, pulp and wood products, automobiles and agricultural machinery, consumer goods and devices, construction materials, non-hazardous chemical products as well as steel and ferroalloys. The fleet comprises 13,500 wagons. The founding idea for TRANSWAGGON was to lease more functional wagons for customers, railroad transport and shipping companies. And that is exactly what TRANSWAGGON offers today: modern wagons of all types – each corresponding to the requirements of all the national and international rail transport companies for the shipment of dry goods.
The wagons are leased to industrial and commercial trade customers as well as rail transport and transport and logistics companies. In addition to its headquarters in Zug (Switzerland), TRANSWAGGON has branches in Hamburg (Germany), Helsingborg (Sweden), Milan (Italy), and Paris (France). Wagon Services subsidiaries offer specialized services in Ljublijana (Slovenia), Olomouc (Czech Republic), and Warsaw (Poland). The company is now managed by its second generation of the founding family, with Per-Anders Benthin, son of founder Udo-Wolfgang Benthin, at the helm.
Press contact of SAVVY® Telematic Systems AG

Aida Kaeser

Co-Founder & CEO