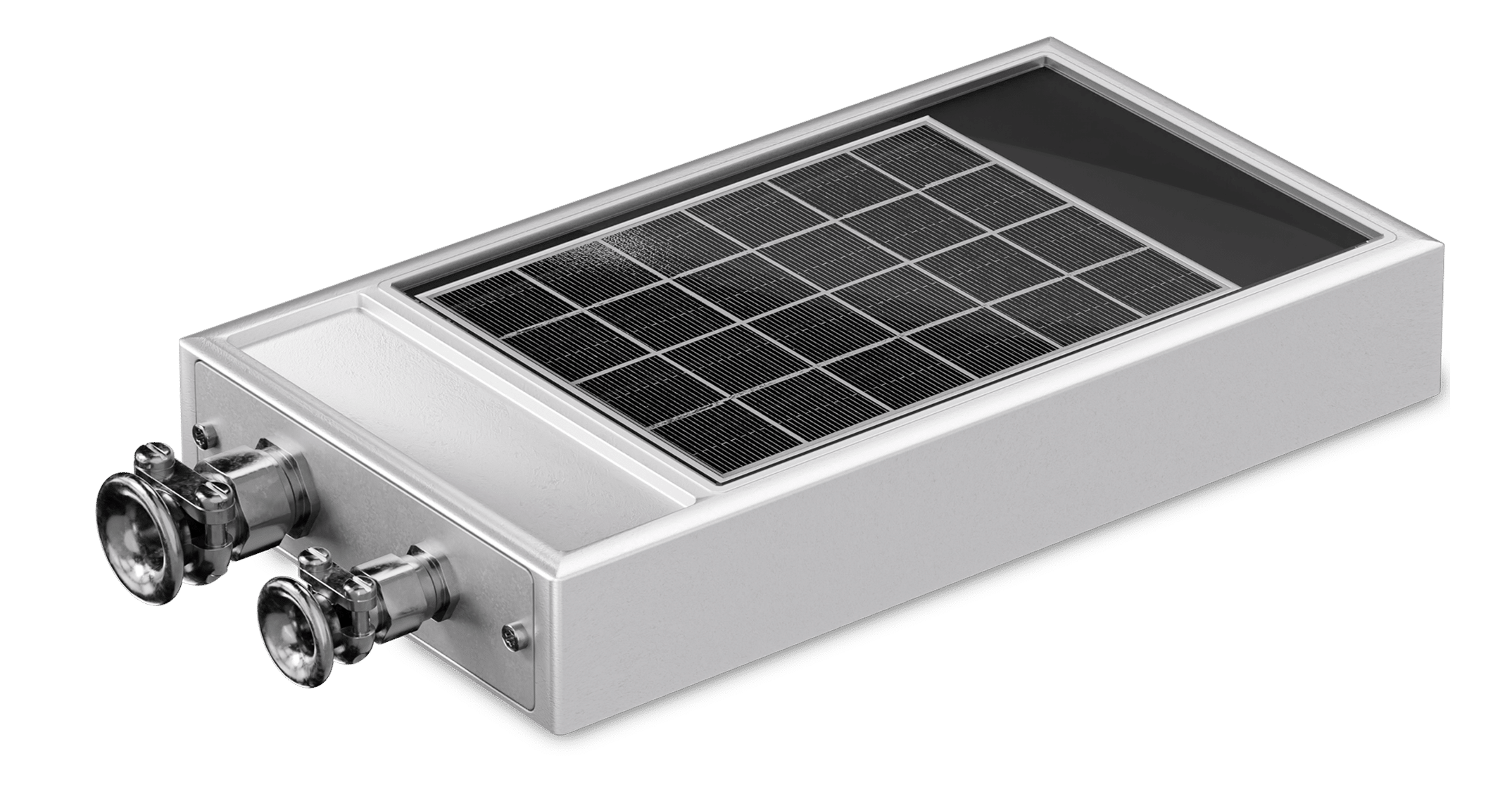 SAVVYs hardware portfolio grows with a further innovation: the new SAVVY® CargoTrac-Solar.
Schaffhausen (Switzerland), September 21, 2023 – SAVVY® Telematic Systems AG (www.savvy-telematics.com), headquartered in Schaffhausen, is a leading provider of innovative telematics, sensor, and software solutions that contribute significantly to the digitalization in the chemical and logistics sectors. The aim of the telematics experts is to add value to these companies by using efficient work and logistics processes. By launching the solar-powered SAVVY® CargoTrac-Solar in the autumn of 2023, SAVVY® is combining the autonomous high-end telematics device with the multi-award winning SAVVY® Synergy Enterprise Portal. This means customers receive a powerful solution for a range of applications, from classic tracking & tracing to global rotation monitoring, and automated unit control to using it as a precise tool for analysing and reporting across logistics processes. The product range is designed for companies that optimize their processes holistically, from logistics to operations to maintenance, in order to reduce total costs. In particular these are manufacturing companies, pharmaceutical and chemical logistics companies or for example suppliers that use tank containers or freight wagons. These companies are able to further increase both product performance and comparative advantages by using the scalable and intelligent M2M solution.
SAVVY® CargoTrac-Solar has, in addition to the highest ATEX/ IECEx/ UKEx certifications, cCSAus (Class I, Div. 2; Class II, Div. 2) for Canada and the USA and the T6 temperature class, connection options for a range of cable and wireless industrial sensors. This means that real-time notifications in one second intervals, even in the roughest environmental conditions and demanding danger zones 1 (Gas Group IIC T6) and 21 (Dust Group IIIC T85°C), are possible.
"By launching the SAVVY® CargoTrac-Solar, SAVVY® is expanding its hardware portfolio with the T6 temperature class, a functionality that is unique on the market, and combining it with a number of cable and wireless industrial sensors as well as with ITSS IF2. This opens up totally new possibilities and applications for SAVVY's innovative customers."
Aida Kaeser
CEO & co-founder of SAVVY® Telematic Systems AG
The SAVVY® CargoTrac-Solar is designed for year-long autonomous use, especially in goods and container operations on rails.The solar-powered version with an integrated backup battery eliminates the need for a wired power supply. Combined with extremely energy-efficient technology, maintenance-free operating periods of more than 15 years are possible.
The device can be installed easily and quickly. The SAVVY® solution pays itself off within a few months because it can be easily integrated into existing systems (e.g. via ITSS IF2) and provides great added value.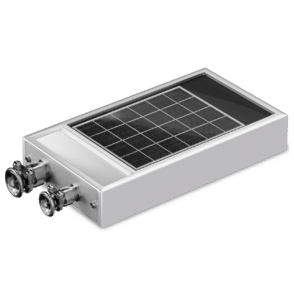 SAVVY® CargoTrac-Solar has a large number of interfaces and highest-standard certificates, making it suitable e.g. for applications in LNG and chemical plants.
SAVVY® CargoTrac-Solar uses, like the other devices in the CargoTrac telematics device series, proven technologies such as GPS, GLONASS as well as BeiDou and Galileo to determine coordinates. This enables seamless tracking & tracing along the shipping chain. Sector-specific applications, combined with dedicated interfaces, make the SAVVY® CargoTrac-Solar an efficient platform for processing sensor signals and monitoring entry terminals, doors and switches, cooling and heating units, and much more. The device is therefore also suited for monitoring temperature-controlled shipments, controlling heating and cooling units remotely and for stationary applications, e.g. determining filling and pressure levels at LNG and chemical plants.
SAVVY's Smart Bogie
Presented for the first time at the Transport & Logistics Fair 2023 in Munich, where it generated a lot of interest: the "Smart Bogie", SAVVYs newest innovation!
The device highlights the clear advantages of intelligent telematics:
The SAVVY® CargoTrac-Solar is combined with the SAVVY® SenseGateway-ExR-2DMS, as a sensor-HUB with four wired connection options, directly on the bogie. Possible sensors include:
+ Temperature sensors to determine axle bearing temperatures to enable increased safety during daily shipments;
+ Brake wear sensors to optimize maintenance processes and reduce costs;
+ Vibration measurements for improved flat spot detection;
+ Option to connect up to two SAVVY® LoadCell-Ex to a SAVVY® SenseGateway-ExR-2DMS.
Installation is easy and inexpensive. The SAVVY® LoadCell-Ex can simply be clamped or screwed onto the bogie. Detecting incorrect weight, load shifts and/or full/empty status becomes a walk in the park.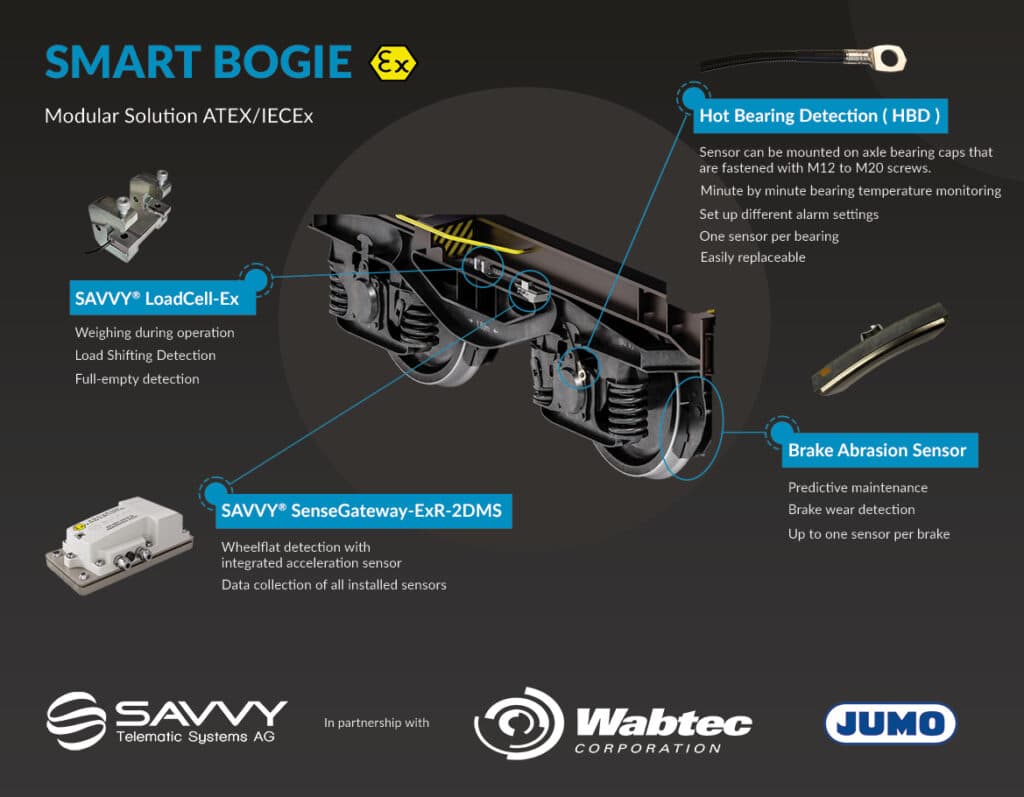 The telematics unit records all relevant data and transmits an encoded version to the SAVVY® Synergy Enterprise web portal. The integrated eSIM-Chip ensures worldwide communication. SAVVY® Synergy Enterprise's BI technology transforms the recorded data into information and visualizes it almost in real-time in straightforward and easy to use dashboards designed according to customer specifications.This makes it possible to generate the necessary quality certificates and reports automatically, significantly reducing administrative work.
"This combination is unique on the market. I am very much looking forward to the launch of the SAVVY® CargoTrac-Solar, which clearly reflects the demands of our sector and will assist our customers in achieving a sustainable and even more efficient logistics management."
Bernhard Weiland
Head of Sales at SAVVY® Telematic Systems
BACKGROUND
About SAVVY® Telematic Systems AG
SAVVY® Telematic Systems AG, headquartered in Schaffhausen, Switzerland, is a leader in innovative telematics, sensor and software solutions that make an important contribution to digitisation in the chemical and logistics sectors. The objective is to increase added value in these companies by means of efficient work and logistics processes. SAVVY® combines high-tech telematics system solutions for use in rail freight wagons, (tank) containers, IBCs, vehicles or machines with sophisticated telematics technology and a process-oriented state-of-the-art portal.
The range of products and services also includes extensive process consulting and intelligent process design for all telematics and sensor-based as well as digitising business processes in chemical, industrial and logistics companies. As of May 2014, SAVVY® is a second-tier subsidiary of the SDAX-listed INDUS Holding Group (www.indus.de). The resulting financial stability is unique on the market and ensures SAVVY® customers' investments are protected and absolute data management neutrality maintained.
Press contact of SAVVY® Telematic Systems AG

Aida Kaeser

Co-Founder & CEO