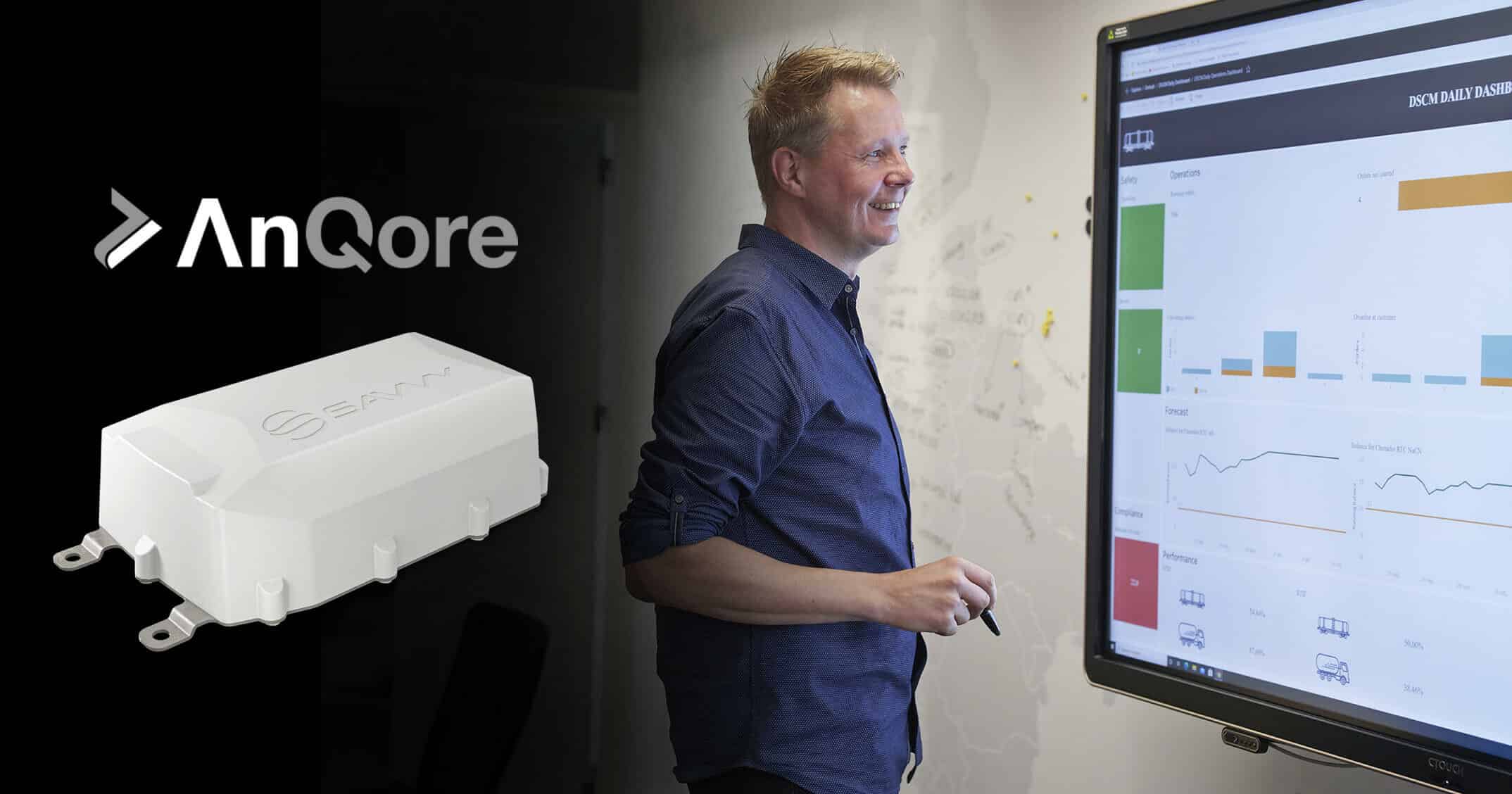 Chemieunternehmen AnQore führt Telematiklösung von SAVVY® Telematic Systems ein.
While most truck fleets are already equipped with telematics, this is still the exception for goods transport by rail and ship. Industrial companies therefore often have no overview of where and in what condition their goods are at any given time. AnQore BV, a Dutch manufacturer of specialty chemical products based in Geleen near Maastricht, wanted to change that. AnQore was one of the first companies in the industry to implement an integrated telematics system for all of its tank containers and tank cars. With the solution from SAVVY Telematic Systems, AnQore has optimized both the efficiency of its fleet and transport safety.
The chemical company takes care to deliver its products – for example, the liquid material acrylonitrile – to its customers punctually, on time and safely. This also includes being able to provide information at any time, for example if a customer asks about the status of his delivery. Even during the return of the means of transport, it is important to know where they are at the moment and when they will arrive back at the plant.
FEEDBACK
"Our customers have a margin of a few days to unload and return the tank cars and tank containers. We could only roughly estimate the time when containers would arrive back at our site. It was therefore clear that in order to be able to plan transports in such a way that our fleet is optimally utilized, we need an even better overview.
Modern sensor technology opens up a new dimension of possibilities here. Transports can be monitored in real time, and processes with customers and logistics partners can be coordinated much more closely. So we looked around for a telematics system – and found a provider in the Swiss company SAVVY® Telematic Systems that fits us very well."
Peter Kehrens
Logistics Purchasing & Implementation Manager at AnQore.
User-friendly cloud platform
The chemical specialist has installed an ATEX and IECEx certified "SAVVY CargoTrac ExR" telematics device on each of its tank cars and tank containers. These boxes, which can be installed in a few simple steps, contain robust and reliable high-tech electronics: In addition to sensors for locating and measuring various variables, the devices also contain a long-life battery and a module for data communication. The latter sends encrypted data to the "SAVVY® Synergy Enterprise" platform via the mobile network.
The private cloud platform is connected to AnQore's SAP system via an interface. For each new order, the corresponding planning data – departure time, route waypoints, etc. – is automatically transferred from the SAP system to the SAVVY Synergy portal. Employees log into SAVVY® Synergy Enterprise with their account. There, they can view the status of all transports in real time – and, for example, clearly display on a map where a particular delivery is currently located.
Comprehensive monitoring of the delivery process
If the incoming telematics data ever deviates from the planned data, the SAVVY® portal immediately sends an alarm notification by e-mail. This way, AnQore employees know immediately if something is wrong with a transport – be it a delay or a safety-relevant incident, such as a strong impact that could damage a tank container. This allows logistics planners and customer service representatives to take immediate action.
FEEDBACK
"Already during the implementation phase, an exceptional situation clearly demonstrated the advantage the new system gives us. Despite weeks of strikes in France from November 2019 to January 2020, we always maintained a complete overview of our fleet. As a result, we were able to keep our customers continuously informed and continue to deliver."
Peter Kehrens
Logistics Purchasing & Implementation Manager at AnQore.
Efficient fleet planning
In addition to improved customer service, the solution also allows the fleet to be utilized to the best possible extent, thus reducing costs. Since the plants with which AnQore produces liquid substances such as acrylonitrile cannot simply be stopped, sufficient containers must be on site at all times for filling. At the same time, it is important to prevent tank cars and containers from standing unused on the company premises for long periods of time. Both can now be ensured even better on the basis of telematics data: Logistics planners can react quickly to short-term changes in fleet planning – and take measures in the medium term to continuously optimize processes.
Since AnQore informs the customer of the exact time of arrival, the customer can also plan more precisely and unload the delivery more quickly. Once he has sent the tank cars with the containers on their way back, SAVVY's software calculates when they will arrive back at the plant. This enables smooth just-in-time production.
More safety in the transport of dangerous goods
Since AnQore's chemical products are hazardous goods, the issue of safety during transport also plays a prominent role. The telematics devices from SAVVY Telematic Systems are certified in accordance with both the internationally valid IECEx and the European ATEX directive for explosion protection and are approved for all hazardous zones.
For safe transport, the tank wagons must also be in perfect technical condition, which AnQore has so far checked in two-and-a-half-yearly check-ups. This process can also be improved by telematics. As the sensors measure the mileage precisely, they allow condition-based maintenance, i.e. the check-up dates are based on the distance actually covered by a tank car or its chassis instead of a fixed period. A heavily utilized wagon therefore needs to be serviced earlier, a less utilized wagon later – an advantage in terms of both safety and efficiency.
FEEDBACK
"It is our vision and ultimate goal to be the most reliable and safest supplier in our competitive environment. Sensors allow us to track shipments very precisely. And this allows us to actively monitor compliance with local – and future – regulations and EU laws regarding the transport of dangerous goods, such as the "Basisnet" in the Netherlands."
Peter Kehrens
Logistics Purchasing & Implementation Manager at AnQore.
Further exploiting potential
After the rollout was completed in March 2020, all sales and customer service employees are now using the SAVVY® Synergy Enterprise Portal. Next, the chemical company wants to bring its regular customers on board: Selected customers will receive their own access to the SAVVY portal. This will enable them to keep an eye on the status of their deliveries at all times, which will also relieve the burden on AnQore's customer support.
FEEDBACK
"It is great pleasure to exploit the potential of the solution more and more. SAVVY Telematic Systems has proven to be an excellent choice right from the start. Not only do the hardware and software fully meet our expectations, we are also very satisfied with the support.
The provider understands our specific needs exactly, advised us competently accordingly and customized the platform according to our ideas. This has enabled us to make significant progress in the digitization and automation of our logistics processes."
Peter Kehrens
Logistics Purchasing & Implementation Manager at AnQore.
WE SAY: THANK YOU!
" During the years of our cooperation, we have got to know and appreciate AnQore as a very innovative and highly professional company. We are all the more pleased to be able to accompany AnQore – as an exclusive partner – in their digitization strategy. We will continue to do everything we can together to maintain our lead in the market through innovation."

Aida Kaeser
CEO SAVVY® Telematic Systems AG
BACKGROUND
About SAVVY® Telematic Systems AG
SAVVY® Telematic Systems AG (www.savvy-telematics.com), headquartered in Schaffhausen, Switzerland, is a leader in innovative telematics, sensor and software solutions that make an important contribution to digitisation in the chemical and logistics sectors. The objective is to increase added value in these companies by means of efficient work and logistics processes. SAVVY® combines high-tech telematics system solutions for use in rail freight wagons, (tank) containers, IBCs, vehicles or machines with sophisticated telematics technology and a process-oriented state-of-the-art portal.
The range of products and services also includes extensive process consulting and intelligent process design for all telematics and sensor-based as well as digitising business processes in chemical, industrial and logistics companies. As of May 2014, SAVVY® is a second-tier subsidiary of the SDAX-listed INDUS Holding Group (www.indus.de). The resulting financial stability is unique on the market and ensures SAVVY® customers' investments are protected and absolute data management neutrality maintained.
Press contact of SAVVY® Telematic Systems AG

Aida Kaeser

Co-Founder & CEO